Well, it seems like I've done a lot of film reviews lately.
And by "lately" I mean "whenever I remember I need to post I take the lazy way out and think of the movie I watched most recently"
But anyway, I read awhile ago this trilogy by Peterson and Bell and I meant to review over the summer and failed to. So with only minor ado....
One last thing, I'm switching up my normal review format because this is a trilogy and I don't want to review one at a time.
Book One: City of Angels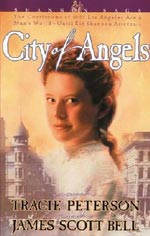 I am a hard person to please when it come to modern historical fiction, because many authors tend to write more "fluff" then the gritty substance that was everyday life in other eras. Authors tend to paint life back in the day as more romantic then it really was. Therefore I was pleasantly surprised by this book and its sequels.
Don't get me wrong, I don't mean that this series isn't happy, or that it doesn't have a good ending. Rather that it seems a little more true to the hardships of the time then most historical fiction.
So, City of Angels is about young woman, Kathleen, or Kit, Shannon who moves to Los Angeles with hopes of becoming a lawyer, in a world where women are expected to stay at home, marry rich, and have lots of children.
Without spoiling it, this first installment is about her struggle to begin and her first trial.
The details of the trial get somewhat explicit (I cannot give you more information because it has been a few months since I read this and I do not own it) and there are some adult themes. But for a mature young adult, this is a good read.
Book Two: Angels Flight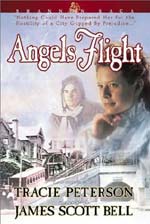 I was skeptical about reading this because I tend to shy away from book series'. I fell that all too often they get dragged out much further then need be, and don't usually end to my satisfaction. However, I was surprised by this book and by the end, eager to read the third book.
Of course the main theme of the book is Kit Shannon's second solo trial (She had previously been working behind the scenes with a mentor). She defends a man who is accused of rape and assault, whom she believes to be innocent. One of the things that makes this a big deal in the book is that he is a Mexican in a very prejudiced time and place.
A minor theme, though one just as important to pay attention to is Kathleen's struggle accepting romantic attentions from a young man she cares for, who does not share her deep faith.
Book Three: Angel of Mercy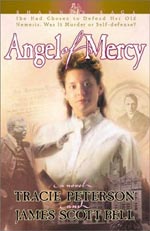 I thoroughly enjoyed this final book in the Shannon Saga. The continuing story of Kit's struggle to bring the young man she cares for to Christ without accepting attentions she feels she shouldn't reciprocate is resolved. (I'm not going to say anything further on that, you'll just have to read it) Also she struggled with the feelings she had for a friendly and well to do young man who not only meets her aunt's requirements for a good match, but also seems to share her faith.
And while the above may make this book sound just like one of the "fluffy" historical fictions I earlier mentioned, it's more prominent theme may make you think otherwise.
Kathleen struggles when an old adversary (an opposing lawyer, who isn't afraid of fighting dirty, and somewhat illegally) asks her to represent him when he is accused of murder. Can she represent a man who she feels may be guilty?
Overall I recommend this series to any mature young adult. With the details of the trials being somewhat explicit at times I would not recommend them to young teens or those extra sensitive to violence.
Have you read these? Have you read others by these authors? If so, what do you recommend I read next?